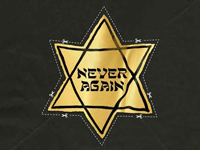 It's been said that whatever is done to the Jews, is done for the Jews.
In other words, when they come out of this current crisis, they will be stronger than before.
Or to paraphrase an old Randy Pike quote, 'Throughout history, many have tried to bury the Jewish people, but after every episode they keep surviving, outliving all the pallbearers'.
History is repeating itself before our eyes.
Ayaan Hirsi Ali, the Somali-born, Dutch-American activist and former politician spoke recently about how, "a story is also a moment when you are forced to make choices.
"I think we find ourselves today, right now, in a moment where we have to make a moral choice".
"I sit here today and say I support Israel. No ifs. No buts. Unequivocal."
What Ali is invoking here is 'The exception that proves the rule'.
And that rule is, 'There are two sides to every story'.
The rightness of Israel's position in this conflict is the exception that proves the rule.
There is only one side to take.
No ifs. No buts.
As we know, the easiest position in any conflict is to 'both sides' the problem – the moral equivalence game.
Australia's Prime Minister, Anthony Albanese, plays this game.
He is unable to condemn the horrific violence perpetrated by Hamas without in the same breath criticising Israel.
"I make no apologies for standing up against anti-Semitism", he told parliament.
But then quickly added, "But I also have a track record of standing up for the rights of and justice for Palestinian people."
There's no doubt which side he is on.
As commentator Chris Kenny stated, "That might have been an acceptable line if Israel had sent its soldiers into Gaza to slaughter children, rape and murder the women, torture and murder the men and take a few hundred hostages.
"That might have been an acceptable equivalence if Israel had spent years firing rockets indiscriminately into Gaza trying to kill civilians."
Which of course, they haven't.
As US commentator Kayleigh McEnany has said, "This is a spiritual and moral catastrophe that has to be addressed".
This is a clash of civilisations, a clash of cultures. A war between the civilised and the uncivilised, and only one can be allowed to win.
In Bethlehem, the birthplace of Jesus, the Palestinian Authority has cancelled this year's Nativity Scene, 'In honour of Hamas martyrs'.
On October 9 – two days after the slaughter of over a thousand Jews, and before there was any response from the Israelis, hundreds of 'Free Palestiners' gathered in front of the Sydney Opera House and chanted "gas the Jews, gas the Jews".
This is clearly not about Gaza.
No, what we are seeing on our TV screens around the world is plain-old Jew-hatred masquerading as 'Free Palestine'.
And while it may be true that a number of young people in these crowds might be equally at home at a Black Lives Matter march or Just Stop Oil action, that is not the point.
In their case, as Mark Twain once said, 'No amount of evidence will ever persuade an idiot.'
It was former Labor Prime Minister Bob Hawke who once declared that Israel was 'an inspiration, a small lone democracy in the Middle East'.
"If the bell tolls for Israel, it won't just toll for Israel, it will toll for all mankind", he said.
There is no doubt the overwhelming majority of Australians are on the side of Israel in this conflict, but it is also a reality that Jewish Australians are very fearful at present.
And for good reason.
In a chilling commentary, author Ramesh Thakur writes, "The solemn pledge of 'Never Again' (referring to the murder of six million Jews during the Holocaust) has now given way to 'Here we go again'.
"78 years after the Holocaust, the threat of Jewish extermination is back.
"Calls go out for Jews to be gassed, and taunts that the army of Mohammed that massacred them in the seventh century will return.
"The terrorists have been valorised, Israel vilified, Jews attacked and threatened, and posters of the missing hostages torn down."
I'm with Kayleigh McEnany, "This is a spiritual and moral catastrophe that has to be addressed".
No ifs. No buts.