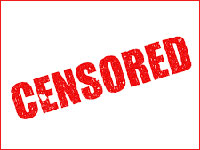 Freedom of speech, freedom of expression and freedom of opinion. These freedoms are critical to the very existence of a strong democracy and an acceptable way of life and are recognised in international treaties and conventions to which Australia is a party. Without free speech, no search for truth is possible. People who aren't free can never reach their true potential. More freedom, more potential.
The Australian people own the language, not politicians, public sector bureaucrats or regulators. The Australian people have delegated to politicians the responsibility to protect us from harm. We have not delegated to them the right to decide who should or should not be offended. Being offended is part of the price of freedom. Regulating for what is essentially the hurt feelings of a reader or a hearer is altogether different to incitement to harm. It is not a politician's or regulator's role to regulate free speech, it is society's.
Language is very powerful and the framing of such debates is powerful. Opponents of free speech like to talk about 'hate speech', a phrase deliberately designed to misrepresent what the free speech debate is about.
Now it goes without saying that no-one should be obnoxious and no-one should be rude or insulting or offensive, but should these things be outlawed?
Tolerance has become a one-way street. Views will not be tolerated if they do not conform. In the name of tolerance and acceptance an anti-freedom culture has developed. The rights of individuals and voluntary groups are under threat and we know from history how things turn out when free speech is repressed. 
Further Reading
"I stand with Senator Claire Chandler"
Cowardly elites appease bullies of cancel culture
James Allan [Reproduced with permission]
Free Speech – Australian Senate Aug 2014 – Senator Day
Free Speech – Australian Senate Sept 2014 – Senator Day
Free Speech – Australian Senate Mar 2015 – Senator Day
Free Speech – Australian Senate Oct 2015 – Senator Day