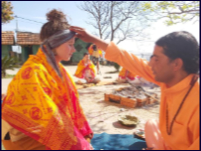 A fourth-year medical student had just finished top of his class at university.
His parents were so proud of him they gave him a holiday in Nepal for a month-long trek to clear his mind and prepare him for his next year's study.
While in Nepal the young man met an Indian guru who told him of the futility of Western society and culture – always striving for success and being dependent on someone else's failure so you can be successful. "That will never make you happy", the guru told him. "Give up all this competitiveness and come and live with us in a community where we all love each other and where no-one is trying to take anything away from anyone else."
The young man had finished five years of private schooling and four years of university and was ripe for this kind of influence.
He rang his parents from Kathmandu and said he was dropping out of Medical School and going to live in an Ashram.
You can imagine how pleased they were to hear this.
Six months later they received a letter from their son:
"Dear Mum & Dad, I know you weren't pleased with me for dropping out of medical school, but I can't tell you how happy I am. For the first time in my life, I feel good about the way I'm living. I've got the poison of competitiveness out of my system. This new way of life is so in harmony with the essence of my inner being in only six months I've become the No 2 disciple in the whole Ashram, and I reckon I'll be No 1 by the end of the year."
Irony and self-awareness were clearly not the lad's strong suits.
The Late Rabbi Sacks wrote, "Those who are naïve about human nature find themselves disappointed again and again.
"Revolutions, protests, and civil wars continually take place because people think that removing a tyrant or having a democratic election will end corruption, create freedom and lead to justice and the rule of law. People are surprised and disappointed when it does not happen. All that happens is a change of faces in the corridors of power."
After the French Revolution, Napoleon was more dictatorial than Louis XVI. After the Russian Revolution, Stalin was far more brutal than the Czar, and after the Cultural Revolution, Chairman Mao was more autocratic and murderous than any of the Emperors of the Chinese dynasties.
Each of these tyrants – Napoleon, Stalin and Mao – as well as fomenting anti-sovereign hatred – also held a deep hostility towards God:
"We will never be free until we strangle the last king with the guts of the last priest."  – Diderot
Like the young man in the Ashram, what the people who supported these tyrants naïvely overlooked was the inability of human beings to prevent the abuse of power and position once it has been attained.
The threat to our nation, and the Western world, is not a virus or climate change, it is the slow takeover of every aspect of our lives by those who seek more and more power. We are witnessing the ascension of a new authoritarianism. 'The long march through the institutions' is nearing completion.
"Know everything in order to control everyone," said Adam Weishaupt.
Technology and mass surveillance will allow governments to do just that – know everything.
For example, kill-switches are now fitted to many makes of motor vehicles – rental cars in particular. These switches can be accessed remotely or programmed to activate if the vehicle approaches a certain geographical area. Legislation was passed recently in the US mandating that by 2026 a kill-switch must be included within the operating software of all new motor cars (see Biden kill switch by 2026).
We've already seen freedom of speech and communication curtailed, freedom of movement will be next.
In England, zone restrictions have been introduced in cities such as Oxford preventing motorists from driving from one part of town to another.
In Holland, banks are tracking what people spend their money on with a 'carbon emissions summary' – from food to airline tickets to petrol – noted on their receipts.
In Australia, smart meters can now be used to control a home's power usage – or disconnect the power completely. No need to physically visit homes that might have locked gates or uncooperative homeowners.
What you buy, what you say, where you go, how much power you use …
A quotation often attributed to GK Chesterton (but actually coined by Belgian writer Emile Cammaerts who was studying Chesterton at the time) puts it in a nutshell, "When people stop believing in God, they don't believe in nothing, they believe in anything."
Sig Samuel wrote, "This is religion minus all the God stuff. These atheists are more religious than Christians."
The state, presided over by its gurus and high priests who are every bit as dogmatic and dictatorial as you'll find in any sect or cult, has become the new religion.
We must stand firm. We must not yield.
This is not easy. Please support us in our efforts to monitor and report what is happening. Thank you.
Note: I will be joining the Panel at the forthcoming 'Church & State' Conference in Adelaide on 5 November. For further information click here.