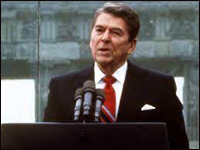 In his brilliant book 'The Subversive Family', British writer Ferdinand Mount argued that marriage and the family, far from being oppressed by the ruling class, are in fact the chief bulwarks against authoritarianism.
Former US President Ronald Reagan, in his farewell address following his successful eight-year presidency said, "All great change begins at the dinner table".
Here in Australia, Gillian Triggs, the former president of Australia's Human Rights Commission received a standing ovation at a (former Greens leader) Bob Brown event, for a speech which included the line, "Sadly, you can say what you like around the kitchen table at home."
Western democracy was founded in Christianity and in the family. It's why Karl Marx and Friedrich Engels, the co-authors of the 'Communist Manifesto', were determined to undermine both. Marx and Engels knew faith and family were the enemy. They did not like what families and people of faith people talked about around the dinner table.
Following the recent Federal election, the general agreement around this Party's dinner table is that Australia is about to get mugged by reality. We're heading for a recession. High mortgage rates, power blackouts, food and petrol shortages and price rises, and a housing affordability and rental crisis will lead, we conclude, to the collapse of the Albanese government.
For a glimpse of what we can expect, look no further than across the ditch to New Zealand. Prime Minister Jacinda Ardern's, unfettered, left-wing policies have totally failed that country. Whether it's the health system, food and petrol price rises, five interest rate rises in a row, increasing crime, one of the worst housing affordability ratings in the world, numerous unfulfilled promises and a deliberate policy of dividing Kiwis along racial lines, New Zealand is Exhibit A. Once again, we are shown that just as there are physical laws that govern the physical universe, there are economic and social laws that cannot be mocked.
Political veteran Winston Peters, who once supported Prime Minister Ardern, says, "New Zealand is turning into a country we no longer recognise".
New Zealanders have, however, finally woken up to Jacinda and, if she hasn't resigned in the meantime, will comprehensively turf her out at the next election.
Here at home, whether the electorate will be ready to embrace a Peter Dutton-led Liberal Party following the failure of the Albanese government is another matter. Therefore, it is important that the electorate has some alternatives.
In our numerous internal post-election discussions along the lines of 'What went right? What went wrong? and Where to from here?' we need to first and foremost get the Australian Family Party's name above the line! Being on the ballot paper is a good start and our Senate candidates' names below the line is fine, but the blank box above the line was a major problem. To get our name above the line we need to lift our membership number past the 1,500 threshold and get registered federally.
Second, there were no less than seven 'Faith, Family and/or Freedom' parties and two well-known independents (Nick Xenophon and Rex Patrick) attracting a total of 16.0% of the primary vote. It is highly unlikely all will run again in 2025.
Third, on the policy front, as Ferdinand Mount stated, we need to be fierce advocates for the family as society's key defender against tyranny. Accordingly, our Top 10 objectives are to STOP the following:
The 'tax and control' agenda – including opposing any digital identity legislation.
Fearmongering – climate change is not a threat to life on earth and nor is Covid.
The money-making racket that is renewable energy.
The indoctrination of children through the education system.1
The undermining of faith-based schools and organisations.
The mental health epidemic.
Addictions to alcohol, gambling, drugs and pornography.
The decline in home ownership and the associated rental nightmare.
Social media harming the young.
Bureaucrats running the country.
An example of that last point was the recent Census which revealed the not-so-subtle attempt to undermine or delegitimize the place of faith in society.
In 2016, 'No Religion' was moved from the bottom of the list of options to the top. How puerile.
But it worked for them. This year, 'No Religion' polled 39% and the accompanying reporting was nothing short of jubilant. The ABC, naturally, was first out of the blocks with, "So Friedrich Nietzsche was right, God is dead, and we have killed him."
It also quoted Philosopher Charles Taylor who warned, "Modern civilisation cannot but bring about a 'death of God'. We have seen the rise of an 'exclusive humanism'. We have swapped God for a culture of authenticity, or expressive individualism, in which people are encouraged to find their own way and discover their own fulfilment".
Yet, had the first question been, "Do you believe in God?" or "Do you have a faith?", I dare say the results would have been very different. After all, who wants 'Religion'? Not me. As the old joke goes, "A lot of people are abandoning religion and going back to God".
We are witnessing, in real time, a concerted effort to undermine Western civilisation.
We must stand firm. We must not yield.
Thank you for your support.
---
1 "Pre-schoolers will learn about non-binary gender identity and become champions of reconciliation and sustainability under a proposed new curriculum for early learning." – From national review of Early Years Learning and School Aged Care Frameworks, Federal Government, 2020.