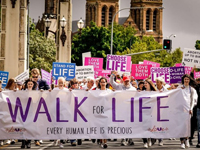 Legislation allowing gender-selection abortion and abortion up to birth is to be voted on in the South Australian parliament in coming days.
In light of this, the Party has written to all Lower House MPs whose 2-party preferred margin was less than Family First's first preference result the last time the Party ran in their seats. How Members vote on this legislation will be of crucial importance when making preferencing decisions at the next State election due in March next year.
In marginal seats like Newland and King, we have said to first term MPs Richard Harvey and Paula Luethen that if they support this awful legislation, the Australian Family Party will preference against them. Newland and King wereFamily First heartland polling between 8.0 and 9.0 percent of first preference votes. Both MPs are on margins of under 2.0% so who gets elected will be very much down to preferences.
The Party is serious about this. We believe the lives of unborn children are precious and must be fought for.
Photo credit: Walk for Life Adelaide, 6 February 2021. Image by Mike Burton, The Advertiser.