Consider for a moment the humble postage stamp. Its usefulness lies in its ability to stick to one thing until it gets to where it has to go.
As we all navigate our way through the postal system of life, we experience highs, lows, stumbles, slip-ups, breaks and bruises along the way. Mine are all listed here: Bob Day.  But as chronicled in Tennyson's 'Ulysses', our aim is to be 'strong in will, to strive, to seek, to find, and not to yield'. And as the Bible teaches, 'in all these things, we can be more than conquerors'.
At the recent SA State election, the Australian Family Party – in its first election, no less – polled over 9,000 votes, giving the Party a credible voting base on which to build. We have a solid membership list, a strong policy platform and a database of Newsletter recipients which runs into the thousands.
Since the election, a number of members have contacted me saying, "That was a good practice run Bob – when can we go again?"
Well, the answer is now!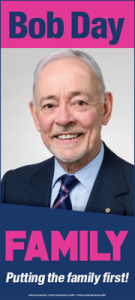 As most members would know, last year the major parties increased the minimum number of members a party needs in order to gain federal registration from 500 to 1,500 – a threefold increase (what did Adam Smith say about 'industry incumbents banding together to keep out new entrants'?) This ruled out the Australian Family Party running in the forthcoming Federal election.
But hope is not lost. This week I lodged with the Australian Electoral Commission my nomination to run as an independent Senate candidate in the election. We will again campaign under the FAMILY banner and 'Putting the family first' slogan which I launched in 2020. However, to secure a box 'above the line', I have teamed up with highly regarded and experienced DLP stalwart Pat Amadio who will run as the No 2 candidate on the ticket. This approach has worked successfully in the past and there's no reason it can't again.
It's worth noting that when I was elected to the Senate in 2013, the non-major party vote in SA was 50%. In 2016 it was 40% and in 2019, 32%. At the recent State election it was also around 30%. Coincidentally, at this election a number of those same candidates from 2013 – Penny Wong and Don Farrell (Labor), Simon Birmingham (Liberal), Nick Xenophon and I (and of course the Greens and numerous other minor parties) will once again be vying for the same six Senate seats. In 2013, I was elected in the No 5 position ahead of Simon Birmingham at No 6. To be elected today, a candidate would need a primary vote of around 7%. With at least 30% of people unlikely to vote for a major party, that is eminently achievable. Can history repeat itself?
What will definitely happen at this election, however, will be the final effect of the 2016 deal between the Liberal Party and the Greens which abolished Senate Group Voting Tickets. Group Voting Tickets allowed voters to simply put a 1 above-the-line and delegate to their party of choice the distribution of preferences. Using Group Voting Tickets, minor parties came to arrangements with each other to combine their votes to get ahead of the Greens. The Liberal–Greens deal ended that. Former Liberal Prime Minister John Howard warned the Liberals at the time that their deal with the Greens could backfire on them. "The principal beneficiary of these changes will be the Australian Greens," he said.
He was right. The Greens currently have 9 Senators. After this election they will have 12, giving them the balance of power in the parliament – enough to join forces with Labor to pass or block legislation. The Liberals could have had more liberty-minded, family-friendly, low-tax Senators like me and David Leyonhjelm and John Madigan, but instead did a deal with the Greens to get rid of us all. The Liberals and Nationals can rant and rave all they like about Adam Bandt and the Greens, but they have only themselves to blame. They have become the Greens' enablers.
The world is changing so profoundly – in social attitudes, world economics, geo-politics and of course technology – that politicians, public sector bureaucrats and regulators are hopelessly ill-equipped to manage it. They are simply outdated and outgunned.
As for personal freedoms – free to speak, free to believe and free to work – these alone should motivate us to fight.
Please join us. If you are available to do some letterboxing in your area or hand out some how-to-vote cards on election day – or better still, at early polling stations – please contact us here.
Our first challenge, however, will be to raise some money for this campaign, so please dig deep and give this election campaign your 'stamp of approval!'
---
Authorised by Bob Day, 17 Beulah Road, Norwood SA 5067