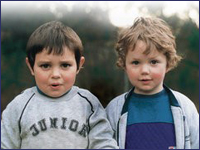 In his excellent book Raising Boys, Steve Biddulph discusses how boys can be nurtured into becoming open-hearted, kind and strong men.
In stark contrast, studies of abandoned children adopted from South American and eastern European countries demonstrate how attachment disorder can lead to sociopathy, and sociopathy to violence.
Society relies on three levels of protection against harm. Level one is a person's own conscience; level two is the family to keep its members in check; and level three is the police.
Nurturing the conscience starts in infancy. Here, childhood connection is vital.
For a free society to prosper, people have to be able to control themselves. Teaching self-control starts with the family. The family cultivates within a child the right way to view life and the world around us.
By any measure, studies show that boys raised by intact families – married mother and father, do better than any other form of family arrangement.
It is a tragedy that more than 3,000 Australians take their lives each year. More young men take their own lives than are killed in road accidents. Boys raised in father-absent environments are five times more likely to commit suicide, ten times more likely to abuse drugs, fourteen times more likely to commit rape, and twenty times more likely to end up in a correctional facility. They are like ships without a rudder. Fatherless households are a dreadful problem. As are divorce, domestic violence, loneliness and addiction to alcohol, gambling, drugs and pornography.
Part of the current turmoil regarding the treatment of women lies in the breakdown of the family.
It follows that reducing the incidence of family breakdown will lead to a reduction in violence against women.
Columnist Paul Kelly says conservatives like the Prime Minister need to show they have an effective voice on justice for women.
'Marriage is good for society' is a conservative message. Government policy could start by encouraging couples to marry, not discourage them with things like inequitable tax rates.
Society's Plan A is the family. Plan B, the police, is a poor substitute. More focus on Plan A please.
Next week, Raising Girls.