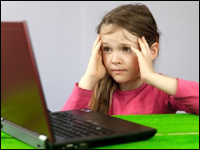 This week I received a very unsettling email from the National Director of Family Voice, Peter Downie. I was so troubled by this email that I have decided, with Peter's permission, to share it with members and supporters of the Australian Family Party verbatim. The contents are not pleasant but demand our attention. Rest assured, the Australian Family Party is committed to addressing this most distressing situation.
Dear Bob
Last week, Brisbane's Courier Mail published a disturbing article by Melinda Tankard Reist of Collective Shout.
"Barely a day goes by," she said, "that a parent doesn't contact me to tell me of the devastation and trauma caused as a result of their child being exposed to porn:
'My 6-year-old was shown porn by an older boy at school.'
'My daughter was on a kids' games site and a porn pop-up appeared.'
'My child googled an innocent term, and it took him straight to a porn site.'
'My son was shown porn on the school bus on the way home.'
'My 7-year-old saw porn at the school camp.'"
My own Downie children were largely home-schooled – protected to some degree from pornography thrust under their nose by other kids.
But these days, internet-connected devices are required for all types of school subjects. Some of the horror stories Melinda mentions can happen to any child or grandchild – yours or mine.
"Some of these children now suffer insomnia, nightmares, anxiety," Melinda went on. "In the worst cases, they are medicated due to the level of disturbance caused by exposure to violent porn.
"It surprises many parents to learn there is nothing to prevent their child being exposed to porn. No barriers – such as proof-of-age requirements – to stop them entering rape, sadism, torture porn and incest websites. All before their first kiss.
"We have allowed a never-before-seen experiment on the sexual development of our kids," Melinda says. "And we're now seeing the results."
And what are those results?
Melinda relays reports from deeply worried parents and grandparents:
"My 10-year-old granddaughter was approached by a boy while waiting for the school bus and asked, 'Do you do arse?'
"My 8-year-old found a note in her school bag which read, 'Ready for sex?"
"An 8-year-old old boy told my 8-year-old girl he wanted to 'f**k you hard'."
Melinda points out that no boy is born this way – it is learned behaviour. Pornography has become the world's biggest department of education. It's a sex ed handbook that links sex with aggression, and the word "consent" is never mentioned.
It is child abuse on a massive scale.
So what can we do about it?
Peter Stevens, Director of FamilyVoice Victoria, is also our Coordinator for Child Internet Safety.
In 2019 he sent a detailed submission to a federal parliamentary inquiry into online gambling and pornography, urging compulsory age verification for these websites in order to protect children.
The inquiry report, Protecting the Age of Innocence, was released in February 2020. It agreed with Peter Stevens and many others, recommending mandated age verification for pornographic and other harmful websites. This would not be a "silver bullet" – but would be a big step forward.
Now more than a year has gone by. The federal government has not responded.
Peter Stevens has met with an adviser to the federal communications minister Paul Fletcher to ask what is going on.
The adviser assured him that the government's response is complete, but the Covid pandemic has delayed its tabling in parliament.
That was weeks ago. Still nothing has happened.
That is why we are ramping up our Protect Children campaign.
For family, faith and freedom,
Peter Downie
National Director