"If you want to get anywhere in life, you have to read a lot of books." – Roald Dahl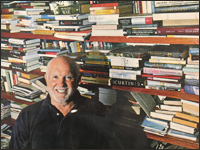 I was fortunate to have not one, but two mentors in my life – Ray Evans and Bert Kelly. Both were iconoclasts – people who challenge the accepted wisdom and sacred cows of their day. Ray and Bert exposed with great effect the myth that government knows what's best. "Never let the government help you", was one of Bert's favourite sayings.
Both Ray (pictured) and Bert were great readers.
Mark Twain said reading, like travel, was 'fatal to prejudice, bigotry and narrowmindedness. Broad, wholesome, charitable views cannot be acquired by vegetating in one's own world'.
GK Chesterton wrote of 'telescope people' and 'microscope people' – telescope people who study large objects and live in a small world, and microscope people who study small objects and live in a big world. Think about that for a while.
And Rudyard Kipling who wrote of the importance to society of discipline, courage and valour, and of the dangers of societies becoming luxurious and feeble. As the general courage of a community declines, he wrote, people become timid.
For a nation or society to function properly it needs leaders who are readers.
'Show me a family of readers, and I will show you the people who move the world', said Napoléon.
 'There is more treasure in books than in all the pirate's loot on Treasure Island,' quipped Walt Disney.
Shortly after World War II, George Orwell published his novel '1984'. The story was set in a country ruled by 'Big Brother', a supreme dictator in an all-powerful, one-party state. The central character, Winston Smith, whose job it was to re-write the nation's history books to fit the current narrative of the state, was continually tormented by his task. The department in which he works is called 'The Ministry of Truth'. Orwell's novel exposed the true nature of authoritarian governments which cling to power by generating fear, distorting facts and censoring alternative views. For a book published in 1949, his description of surveillance technology to track and trace its citizens is downright spooky – think facial biometric scanning and GPS tracking used by the South Australian government during Covid.
What we learn from books such as '1984' and Orwell's other great novel Animal Farm, is that there is nothing new under the sun and that lurking in every society are men and women with authoritarian tendencies who are ever ready to 'generate fear, distort facts, and censor alternative views'.
As well as books like '1984' and Animal Farm which issue dire warnings, there are books which impart knowledge, explain how the world works, record history, and enlighten us about religion, art and sport. And there are, of course, books which simply entertain.
'Without books', wrote Ron Manners in his Foreword to the IPA's 100 Great Books of Liberty, 'I would not have heard of HL Mencken or his comment about the 1930s Roosevelt New Deal dividing America into "those who work for a living, and those who vote for a living".'
Top of the list of books that have changed the world, is of course, the Bible. From the story of Nimrod, the world's first tyrant who was bent on world domination, to life-changing stories of the prodigal son, the good Samaritan, David and Goliath, Daniel and the lions' den, Moses and the ten commandments, and of course the birth, death and resurrection of Jesus of Nazareth. For those seeking hope and inner peace about what is happening in the world, the Bible is the great refuge.
After the Bible, one cannot go past Shakespeare. Hamlet, the Merchant of Venice, Romeo and Juliet, Richard III, and for sheer intrigue and ambition, best of all, Macbeth.
And the number three book that has changed the world has to be Adam Smith's The Wealth of Nations and the concept of letting individuals set prices which suit them, rather than 'markets' which can get distorted by a perverse range of agendas.
For sheer enjoyment, no bookshelf is complete without a few of Jeffrey Archer's page-turners. Top of my list of Archer novels is Kane & Abel, followed by A Matter of Honour. Agatha Christie's crime mysteries, Wuthering Heights by Emily Bronte, Jane Eyre by Charlotte Bronte and Jane Austen's Pride & Prejudice are absolute delights.
'I find television very educational', said Groucho Marx. 'Every time someone turns on the TV, I go to another room and read a book.'
Essential other reads include Pilgrim's Progress; Donald Horne's The Lucky Country; Rick Warren's The Purpose Driven Life; How to Win Friends and Influence People by Dale Carnegie; JR Tolkien's The Lord of the Rings; Exodus by Leon Uris; great Russian writers Tolstoy and Dostoyevsky – War & Peace and Crime & Punishment. Closer to home, anything by Geoffrey Blainey; Greg Sheridan's God Is Good For You; founder of the China Inland Mission Hudson Taylor's Spiritual Secret; two of Malcolm Gladwell's books, Blink and Outliers; John Maxwell's books on Leadership; Frank Furedi's book How Fear Works and Bob Buford's books on Half Time.
…. and Hairy Maclary from Donaldson's Dairy.
If you would like to help with the coming election, please make a donation here.