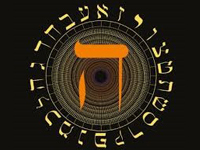 At the recent State election we drew box J, the 10th letter of the alphabet. Readers may recall the reference to the 10th letter of the Hebrew alphabet 'Yud' in a recent State election post. The Yud was an important letter in Hebrew, we said, because first and foremost, it was the first letter of the name of God, YHWH: Yud – Heh – Vav – Heh.
Well, wouldn't you know it, for the Federal election we've drawn the letter E, the 5th letter of the alphabet, which in Hebrew is Heh. Heh is the second letter of the name of God.
Seems we're spelling out God's name here – just two more elections to go …
Not only does the letter Heh appear twice in God's name, in Hebrew writings 'H is used as an abbreviation for YHWH, and when God declares, 'I am here!', He uses the phrase 'Heh-neh!'
Heh is also called the 'timeless letter', as the Hebrew words for past, present and future are all connected to the letter Heh.
Like the number 10 in our State election post, the number 5 is also very significant in Scripture. Again, from the first chapter of Genesis in which God creates light, He mentions the word 'light' five times. This is believed to be connected to the light revealed in the five books of Moses – the Torah (Genesis, Exodus, Leviticus, Numbers, Deuteronomy), the five characteristics of mankind (physical, emotional, intellectual, spiritual, consciousness) and our hands containing five fingers which represent our physical connection to work and the world. We note also that the Hebrew word for work and worship are the same – Avodah. It's why we say denying a person the right to work is like denying them to right to worship. 'He who builds a factory, builds a temple', Calvin Coolidge famously declared, 'He who works there, worships there'.
This all accords perfectly with our Family, Faith and Freedom policies of 'Family Resilience, Family Economics and Family Technology' and 'Free to Speak, Free to Believe and Free to Work'.
At this election, every voter will be asked to cast two ballots – one on a small green ballot paper for the House of Representatives – your local MP – and the other on a very large white ballot paper for the Senate – representing the State.
The House of Representatives ballot paper is quite straightforward – simply number the candidates (usually between five and ten of them) in your order of preference.
The Senate ballot paper, however, is not so straightforward.
For a start, it is a metre long and contains 22 registered political parties or groups above the black line and over 50 individual candidates below the line.
You can choose whether to vote above or below the line, but not both. Voters must number a minimum of six boxes if they choose to vote above the line, or a minimum of twelve boxes if they choose to vote below the line.
As discussed above, we have drawn box E on the Senate ballot paper. E for Employment, E for the Economy, E for Education, E for Excellence, E for Endurance, E for Eternity, E for Elvis, E for Elijah and of course, E for Esther for such a time as this.
We are recommending to voters that they vote above the line and follow our how-to-vote card by placing a 1 in box E, then a 2 in box J for Australian Federation Party, and then a 3 in box S for Pauline Hanson's One Nation, 4 in box A for Liberal Democrats, 5 in box G for National Party and 6 in box U for United Australia Party.
Click here to view or download our how-to-vote card.
All we need now are a few more V for volunteers to do some letterboxing and hand out the how-to-vote cards and, of course, a few D for dollars to help pay for them.
---
Authorised by Bob Day, 17 Beulah Road, Norwood SA 5067