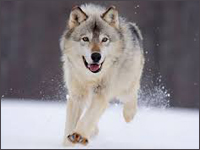 Some time ago a friend of mine wandered into a tattoo shop in Sydney.  As you'd expect, on the walls were all manner of tattoos – animals, cars, people and of course a whole range of  words and slogans. One slogan in particular caught his eye.  It said, "BORN TO LOSE."
My friend asked the tattooist, "Does anyone ever ask for that tattoo there, 'BORN TO LOSE'?"  "Yes, sometimes," said the tattooist.
"Why on earth would anyone want 'BORN TO LOSE' tattooed on their body?"  my friend asked.
The tattooist replied, "I only tattoo on their body what's already tattooed on their mind."
The Roman Stoic philosopher Lucius Seneca warned his critics, "Throw me to the wolves, and I will return leading the pack".
Such contrasting outlooks on life.
Let's ask ourselves this question, 'what are we tattooing on impressionable young minds?'
Stoicism? Or surrender? Resilience? Or resignation?
Author Os Guiness once said, "It's not the wolves at the door that's the problem, it's the termites in the floor."  It's not the external threats on our borders, it's the rot within.
My first job after leaving school was with the South Australian State Government. I was there about six years, and I must confess the public sector didn't suit me all that well.  I remember a guy there called Nigel who was very unhappy in his job and would complain almost daily.  It used to drive me nuts. So, one day I plucked up the courage and said to him, "Nigel, you're obviously not happy working here, why don't you leave and do something else?"  He replied, "What's the point? I'm going to be retired in 17 years."
On a remote dirt road in the northwest territories of Canada there's a large sign which says, "Be careful which rut you choose – you'll be in it for the next 50 miles".  We often hear people say that their lives are in a rut. Like the old farmer out in the paddock holding a piece of rope and scratching his head, not sure whether he's lost a cow or found a rope.  Or the cat that sat on the hot stove. If a cat sits on a hot stove, what can you be sure of? – He'll never sit on a hot stove again. But then he'll never sit on a cold one either. He's 'overlearned' from his experience. Nigel was all those things.
As we know, it's not what you're good at in school that matters but what you're good at in life.
Let's teach our young people to be 'better at life'. To let them know that through trials and difficulties we discover the treasure.
And where best to teach this? In the home, in the family.