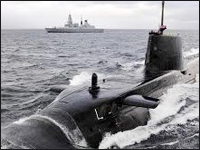 Collision Course
Bob Day
Australian Financial Review
16 November 2012
In 1969 (former SA Federal MP) Bert Kelly was sacked as Minister for the Navy following the collision of HMAS Melbourne and USS Frank E Evans.
It appears we are once again on a collision course with the US, this time over big cuts to our defence spending. It's been suggested we're not pulling our weight reverting to our old ways of relying on 'great and powerful friends'. US Secretary of State Hillary Clinton is here to discuss the matter.
Investing in nuclear powered submarines would certainly alleviate her concerns however instead of immediately trying to politicise the issue, it might be more helpful if SA Premier Jay Weatherill took a leaf out of Bert Kelly's book and took a more bi-partisanship approach. Real debate, Bert used to say, was party-neutral.
Opportunities abound in this area. The UK for example has just announced a massive new investment in submarine construction. Why couldn't Australia consider a joint venture with the UK to build our first submarines in the UK with inclusion of our own (SA) labour force on a rotational basis?
The opportunity to lower cost, ensure the latest technology and build our domestic skills capacity so we could eventually build them here would all be enhanced by a joint venture. This would benefit both Australia and the UK (or US if that was the preferred option).
Further, given its strategic importance and role, it should be asked whether this proposed new submarine warfare capability should remain within the Royal Australian Navy or become a fourth Service in our defence force.
This is all too important for political point-scoring.
Bob Day AO is Chairman of The Bert Kelly Research Centre
---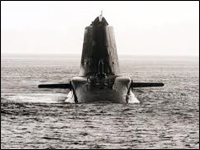 Nuclear submarines
Bob Day
The Advertiser
15 October 2014
THE current submarine construction furore is largely focused on whether the Government will stick to its 2013 commitment to continue building submarines in South Australia or buy an ''off-the-shelf'' model from Japan.
On this subject, one thing is not in contention: if Australia is to be a significant regional presence in the South Pacific and Indian Oceans, it needs a submarine fleet that is respected by our allies and (potential) enemies alike.
The reality and universal thinking for Australia's future defence needs is that we need 12 submarines – six conventional diesel-powered submarines and six nuclear-powered vessels (nuclear-powered, not nuclear-armed) to replace the current fleet of six Collins Class submarines.
Australia is a huge continent and the range, speed and capability of nuclear submarines is extremely potent.
So it is very disappointing that the Federal Government has decided that it does not want to talk about nuclear submarines, despite a number of our G20 national colleagues having full nuclear enrichment capabilities.
The short-term, next election thinking that has prevailed in Australian politics – and has done so as far back as when SA was paralysed on the question of mining uranium until the late Norm Foster crossed the floor to support it – does our nation a great disservice.
Foster supported the development of SA's uranium resources against the wishes of his ALP caucus colleagues and was summarily expelled from the party. Today, of course, he is hailed as a party hero and the former Federal Labor government began negotiations on a uranium export deal with India.
As so often happens, after your death they build a monument to you with the stones they threw at you when you were alive.
Now I know Premier Jay Weatherill called me ''an enemy of the state'' because I criticised his health funding policy. But on this subject I suggest he take a leaf out of the book of former minister for the navy and my mentor and hero Bert Kelly, and take a bipartisan approach.
"Real debate", Bert used to say, was "party-neutral". Defence is all too important for political point-scoring.
The current Federal Government needs to show the same sort of courage and sensible thinking displayed by Norm Foster by putting all legitimate options on the table. That is why I am urging it to consider nuclear submarines.
The UK's Astute class submarines cost about $2 billion each. They are equipped with Tomahawk cruise missiles and torpedoes and have long mission operation duration. The UK is investing significantly in submarine construction, and through recent treaty enhancements with Australia we could be a primary beneficiary of the construction of the new subs.
We could rotate our engineers and workforce through the UK to learn from them with a view to eventually building those submarines here. The opportunity to lower cost, ensure the latest technology and build our domestic skills capacity would all be enhanced by a joint venture.
Further, ''nuclear culture'' and submarine capability are so important I believe the Government should be considering a fourth arm of the defence forces, separate from the navy. That is, should the Royal Australian Submarine Corps be established?
Bob Day is a South Australian Senator
---
Further details about Australian Family Party's policies on defence are here.