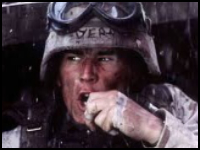 There's a scene in the movie 'Black Hawk Down' where the sergeant yells to one of his soldiers, 'Get in the truck and drive!' 'But I've been shot', the soldier replies. 'We've all been shot, now get in and drive'.
I couldn't sit by and watch both Labor and Liberal Governments introduce their anti-family, anti-Christian, anti-business policies and not try to do something about it. I couldn't say, sorry, can't help you, I've been shot. I had to get back in the truck and drive.
Bad things happen to everyone. Some have been shot by cancer, others by the loss of a child, or by a relationship breakdown, or by an addiction, or a moral failure, or being accused – or even worse convicted – of a crime they didn't commit. I'm no different, except for me it was very public.
In my case it was a business failure. I wasn't as smart as I thought I was. I'd bitten off more than I could chew and paid the price.
But you can't let your past mistakes define you. You have to get back in the truck and drive.
I've called my election campaign, 'Unfinished Business'.
Australia has economic and social problems that it wants to solve – inflation, rising interest rates, high mortgages (forcing both parents out to work), high cost of living (educating and raising children, power prices, water prices) – and social ills caused by the rupturing of family relationships, addiction to alcohol, gambling, drugs and pornography, and suicide.
And it has social and economic goals it wants to achieve – full employment, affordable housing, low crime rates. Looking to politicians, bureaucrats and regulators to solve these problems and achieve these goals is, however, a lost cause. The world is changing so profoundly – in social attitudes, world economics, and especially technology – that politicians and bureaucrats are hopelessly ill-equipped to manage it. They are simply outdated and outgunned.
The major parties and their apparatchiks live in a world that is foreign to ordinary people.  Simply put, they do not know enough to make the correct decisions. Those at the 'top' know less than those at the 'bottom'.
Over the past decade – before Covid-19 hit – the economy was quite healthy and yet government debt still increased every year under both Labor and the Liberals.
Over the next few years, Commonwealth debt is forecast to exceed a trillion dollars – that's 1,000 billion dollars. It is not going to end well. The old adage, "There's no such thing as a free lunch", hasn't been around for 100 years for nothing.
We are heading for very tough times thanks to irresponsible fiscal (spending) and monetary (interest rates) policies. You simply can't spend hundreds of billions of dollars like we have and expect no repercussions.
Someone is going to have to pay for it. And that someone is the next generation. The English rock band The Who – Pete Townshend on guitar, Roger Daltrey on vocals, John Entwistle on bass, & Keith Moon on drugs – got it right when they said of the older generation, "…things they do look awful cold …. (hope I die before I get old!)"
Someone has to go into bat for them and the family.
The Australian Family Party is based on six key principles: Family Resilience, Family Economics, Family Technology, Free to Speak, Free to Believe and Free to Work.
Basically, the family has been dudded. It's time to push back in the form of:
Recognition – shifting the centre of gravity from the political class to the family.
Encouraging family formation – getting married and starting a family.
Home ownership – addressing land supply for new housing.
Cost of living – introducing income-sharing and stopping price-gouging – power prices in particular.
Free to work – your rights at work need to become your rights to work.
Free to speak and free to believe.
Technology – addressing the indisputable links between social media and mental health.
Society relies on three levels of protection against harm. Level one is a person's own conscience; level two is the family to keep its members in check; and level three is the police. Nurturing the conscience starts in infancy. Here, childhood connection is vital. There needs to be more incentive for parents to look after their own children and less emphasis on government-subsidized childcare.
For a free society to prosper, people have to be able to control themselves. Teaching self-control starts with the family. The family cultivates within a child the right way to view life and the world around us.
A renaissance is needed, one that puts the family at the centre of society. Every decision by government should be measured against how it affects the family.
The State has a duty to the family. Society has a duty to the family. And what the State and society owe the family is not food or housing or education or health care, what the family is owed first and foremost is 'recognition'.
We can serve Australia best by putting the family first. Click here to see our how-to-vote card.
---
Authorised by Bob Day, 17 Beulah Road, Norwood SA 5067