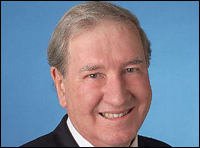 Andrew Evans was elected to the South Australian Parliament's Upper House (Legislative Council) in February 2002 with a primary vote of 4.0%. Not bad for a first-time candidate and a new party.
Before going into politics, Andrew had been the senior pastor at SA's largest Pentecostal Church – Paradise Assemblies of God (AOG).
Andrew formed the Family First Party in 2001, and the party immediately became known for its Christian-based, social conservatism – particularly on issues such as abortion, euthanasia and the LGBT agenda.
At the 2006 State election, Family First added a second Upper House member (Dennis Hood).
In July 2008, shortly after his 73rd birthday, Andrew resigned his seat and former Liberal Party MP Robert Brokenshire was nominated by the party to replace him.
As it happened, also in July 2008, the Liberal Party was holding its controversial Mayo preselection contest following Alexander Downer's sudden resignation from Federal parliament. I was a candidate in that preselection contest and resigned my 20+ years of Liberal Party membership as a result of that controversy.
The following day, Andrew rang me and invited me to join Family First and head up the party's federal aspirations. I accepted and ran as the Family First candidate in the subsequent Mayo by-election gaining 11.4% of the primary vote. I was not elected as the Member for Mayo, which went to the Liberals' Jamie Briggs.
Following the by-election, I became the party's lead Senate candidate and was elected to the Federal Parliament in 2013 and again in 2016.
Andrew and I were able to unite the religious social conservatives and the free-market libertarians, an essential element in developing preference arrangements. As Andrew often said, 'there's no point having all these great ideas, if you can't get yourself elected!'
On the social side, one of Andrew's great political achievements was the removal of the statute of limitations for child sex abuse.
Before Andrew's election in 2002, no person in South Australia could be prosecuted for a sexual offence if the offence had been committed before December 1982.
Andrew had this ban overturned.
The new laws operated retrospectively so that people who had committed certain sexual offences before December 1982 could be prosecuted.
As was said on the floor of the House at the time, '… in relation to the tolerance of such incidents, and the subsequent chain of events put in place by the Hon Andrew Evans, this will indeed be a significant lasting legacy of his contribution to this parliament'.
But the party wasn't called 'Family First' for nothing. Andrew and I set about highlighting things that were important to establishing and maintaining healthy families. Our motto became 'every family, a job and a house'. If every family had a job and owned a house, the benefits to the nation would be incalculable. Australia would be transformed. So why didn't every family have a job and own their own home? In short, barriers to entry.
When it came to jobs and houses, Australia was not a free country.
For the low-skilled, or poorly educated, or socially disadvantaged, or for those who lack connections or self-confidence, the barriers to entry to getting a job are serious indeed.
As for barriers to home ownership, for more than a hundred years the average Australian family was able to buy its first home on one wage. The median house price was just three times the median income allowing young home buyers easy entry into the housing market.
As we know all too well, the median house price is now more than nine times annual income and home ownership is out of reach for most young families. Increasing supply through more broadacre land release became our mantra.
Then there's the way the family is taxed. Family First strongly advocated income-splitting for single-income households and putting an end to price-gouging by state governments of water and power costs.
Andrew and I maintained our friendship right up to the end. We last spoke last year when he knew his time was limited. He was a friend and mentor. When it came to minor party politics and how to deal with a church-based membership, Andrew knew everyone and was able to get people to stand as candidates like no-one else before him.
Andrew passed away last Friday.
We have lost a great man.